Thursday, October 19, 2017
Berikutan pengesahan Ketua Polis Negara, Mohamad Puzi Harun bahawa Ketua Pesuruhjaya SPRM, Dzulkifli Ahmad ketika ini sedang disiasat oleh PDRM berhubung dakwaan mempunyai hubungan sulit dengan seorang wanita yang dipercayai masih bersuami, kedudukan beliau sekarang nampaknya tidak lagi "cantik" di mata umum.
Daripada sosok yang digeruni kerana melakukan tangkapan demi tangkapan berkaitan rasuah, beliau kini sebaliknya menjadi cemuhan terbuka di mana-mana saja berhubung dakwaan yang dikaitkan dengannya itu.
Bermula dengan tersebarnya video mengenai hubungan beliau dengan wanita berkenaan dan kemudian beberapa video lain yang menunjukkan mereka bercuti bersama serta aksi berpeluk dan berpegangan tangan di Bali, Dzulkifli kini hanya ada empat pilihan untuk pertimbangannya.
Pertama, beliau sebaiknya mengambil cuti sementara sehingga pihak polis selesai menyisatnya di bawah Seksyen 498 Kanun Keseksaan yang merujuk kepada kesalahan menggoda wanita yang sudah bersuami untuk tujuan mengadakan hubungan haram.
Hukuman bagi kesalahan berkenaan akan berdepan hukuman penjara dua tahun, denda atau kedua-duanya sekali.
Berdasarkan video yang tersebar itu, Dzulkifli dipercayai bercuti bersama dengan pasangannya di Bali pada Julai lalu, sementara wanita berkenaan baru berpisah dengan suaminya pada hujung September.
Maklumat di media sosial juga menghebahkan wanita berkenaan adalah rakan setugas Dzulkifli ketika di Jabatan Peguam Negara dahulu, tetapi kini dikatakan sudah berpindah kerja di sebuah syarikat minyak sebagai Pengurus Undang-undang.
Maka, sementara siasatan terhadapnya dijalankan, Dzulkifli harus mengambil cuti bagi membolehkan siasatan menyeluruh dijalankan serta demi menjaga wibawa dan nama baik SPRM yang sedang diterajuinya.
Ruang seluas-luas dan seadil-adilnya harus diberi kepada pihak polis untuk menjalankan siasatan, dan sekiranya setelah siasatan selesai dan didapati tidak bersalah, beliau bolehlah kembali semula kepada jawatan asalnya.
Tetapi, sementara siasatan sedang berjalan, adalah tidak molek sama-sekali Dzulkifli terus ada di SPRM.
Kedua, tindakan paling terpuji dan terhormat ialah Dzulkifli mesti meletakkan jawatan secara serta-merta sebagai Ketua Pesuruhjaya SPRM.
Dengan kapasiti mengetuai SPRM yang memerlukan penerajunya mempunyai wibawa dan intergriti yang tidak dipersoalkan, meletakkan jawatan menunjukkan beliau lebih mengutamakan SPRM berbanding dirinya sendiri.
Selagi Dzulkifli berada di tempatnya sekarang, selagi itulah kerjanya akan sentiasa dipersoalkan, malah melangkah keluar daripada rumahnya saja beliau sudah berdepan dengan konflik dalaman terhadap dirinya sendiri.
Atas keadaan sebegitu, bagaimanakah beliau mampu menjalankan tugasnya dengan baik dan cemerlang?
Maka, meletakkan jawatan dengan segera akan serta-merta membersihkan nama SPRM daripada terkait dengan dakwaan yang dikaitkan dengannya.
Ia juga membolehkan siasatan yang seadil-adilnya dijalankan dan sekiranya Dzulkifli didapati bersalah kemudiannya, setidak-tidaknya nama SPRM tidak terpalit sama.
Ketiga, memandangkan wanita yang dibawanya bercuti itu sekarang ini sudah berpisah dengan suaminya, Dzulkifli sebagai lelaki sejati harus memikul beban pertanggungjawaban moral dengan menjadikannya sebagai isterinya yang sah.
Jika beliau ketika ini sudah ada satu isteri, jadikanlah sebagai isteri kedua dan sekiranya sudah dua isteri, jadikannya yang ketiga.
Melihat kepada pendedahan dalam video yang tersebar, Dzulkifli dengan wanita berkenaan bukan saja menaiki penerbangan bersama, bahkan rekod juga menunjukkan pendaftaran bersama bilik hotel di Bali.
Sekiranya semua yang terpapar dalam video itu adalah benar, termasuk aksi berpeluk dan berpegangan tangan, perbuatan itu bukan saja salah sebagai seorang muslim, tetapi juga memusnahkan intergitinya sebagai penjawat awam yang mengetuai SPRM yang semestinya ada intergriti, moral, bersih serta kelihatan bersih.
Itu belum dikira lagi apa terjadi di dalam bilik hotel yang hanya Tuhan saja yang tahu apa berlaku.
Mudah-mudahan dengan berkahwin dan kemudian bertaubat kepada Tuhan, kiranya benar dosa-dosa itu telah terlanjur dilakukan, Dzulkifli dan keluarganya akan mendapat keampunan dan keredhaan di baki-baki usianya yabg tinggal.
Keempat, tindakan paling teruk dan terburuk yang boleh dilakukan oleh Dzulkifli ialah terus bertahan dengan jawatannya sekarang. Beliau boleh saja mengatakan ianya sebagai taktik kotor, jijik, usaha untuk membunuh karektornya atau apa saja dalih yang lain.
Tetapi, persoalan yang perlu beliau jawab dengan jujur dan ikhlas ialah, apakah benar atau tidak beliau mempunyai hubungan terlarang dan melakukan perkara-perkara seperti yang terkandung dalam video berkenaan?
Jika perbuatan itu sendiri gagal dinafikan, apakah wajar menuding seluruh kesalahan kepada pihak yang melakukan serangan?
Dalam pada itu, risiko paling parah yang bakal dihadapi dengan Dzulkifli terus ingin bertahan ialah kepercayaan dan penghormatan orangramai sudah tiada lagi terhadapnya.
Apa saja yang dilakukan untuk mencegah rasuah atau menangkap sesiapa, akan dilihat sebagai percubaan untuk menutup kesalahannya sendiri.
Melihat kepada apa yang terpampang dalam video berkenaan, sukar bagi sesiapa pun menafikan kebenaran atau setidak-tidaknya ada fakta kebenaran di sebaliknya.
Lalu, sampai bilakah kerajaan mampu mempunyai seorang Ketua Pesuruhjaya SPRM yang sedemikian rupa, jika Dzulkifli tetap berkeras untuk bertahan dengan jawatannya?
Kepada Dzulkifli, jika sebelum ini beliau pernah melontarkan amaran bahawa "rakyat memerhati" berikutan ada parti-parti politik yang menolak untuk mengemukakan senarai calon PRU 14 untuk ditapis terlebih dahulu oleh SPRM, kini beliau harus sedar bahawa seluruh rakyat juga sedang dan lebih memerhatikannya.
Buatlah pilihan dengan segera kerana lagi lama bertangguh, mungkin lebih buruk keadaan dan nama SPRM sendiri akan terus terbeban.
– http://shahbudindotcom.blogspot.my
China
will fend off risks from excessive optimism that could lead to a "Minsky Moment," central bank governor Zhou Xiaochuan said on Thursday, adding that corporate debt levels are relatively high and household debt is rising too quickly.
A Minsky Moment is a sudden collapse of asset prices after a long period of growth, sparked by debt or currency pressures.
The theory is named after economist Hyman Minsky
China will control risks from sudden adjustments to asset bubbles and will seriously deal with disguised debt of local government financing vehicles, Zhou said.
The People's Bank of China governor was speaking on the sidelines of China's 19th Communist Party congress.
CNBC
I received this from a reader F. Farouk.
"Saudi Arabia to vet use of Prophet's sayings to counter extremism

F Farouk < - - - @gmail.com>

Salam Tuan Haji, You officially have bragging rights to say you were right all this while.
From the mouth of the chief camel, quoted from the Malay Mail as below.
https://shar.es/1PgU9q
My comments : Thank you F. Farouk. Thank you for granting me the bragging rights as well. They banned my book Malaysia And The Club of Doom last year - 10 years after it was published in 2006. As the title suggests my book predicted the collapse of the Islamic countries a full FIVE YEARS before the Arab Spring took place in 2011. The Arab Spring has now become the ARAB HELL and it is still going on, perhaps it will get even more worse as more and more Islamic countries will collapse.
Anyway here is that Malay Mail story about Saudi Arabia :
RIYADH, Oct 19 —
Saudi to monitor interpretations of hadith
prevent them being used to justify violence, terrorism
King Salman decreed

establishment of body to scrutinise hadith
authority's aim
to "eliminate fake, extremist texts"
that justify crimes, murders, terrorist acts
"solid scientific references to vet, verify authenticity of hadiths"
chaired by M Hassan, Council Senior Scholars, Saudi highest religious body
to be based in Medina, overseen by council of scholars
ministry offered no specific details how it would work in practice
ISIS and al-Qaeda use hadiths — numbered in thousands
to justify violence, carry out attacks
Saudi oil exports allow it to fund mosques abroad

ultra-conservative Wahhabi close to Saud dynasty
offer legitimacy in return for control over mosques, universities.
Wahhabi doctrine favours strict version of law
government vets clerics in Saudi
has sacked many for violence or sedition
My comments : First of all let me tell you that the religious people are the Number 1 lying b@_tards in the world, especially the Saudi Wahhabi camel shaggers. Anak S_ndal First Class. Dont believe anything they say.
All this is just hogwash.
Donald Trump visited Saudi Arabia on May 20, 2017.
Trump THREATENED the Saudi King to make serious reform or otherwise the US will cut off their support and let the Saudis die.
Donald Trump has put a gun to their head.
Since Trump's visit on May 20th, 2017 the Saudis have announced THREE MAJOR reforms:
1. the Saudis have said that they will be ABOLISHING all Saudi school textbooks that preach hatred and violence against non Muslims and non Wahhabis. That was reform No. 1.
2. the Saudis have said they are going to allow women to drive. That is No. 2.
3. Now number three is they are going to vet fake hadith and violent hadith (whether fake or not).
Even if they abolish school textbooks that preach hatred and violence what is there to prevent their Wahhabi teachers from verbally preaching violence and hatred to their school kids, outside of the "new" textbooks ?
Allowing women to drive has not been fully established yet.
The talk is only women above 35, who are married and have children will be allowed to drive.
They will be allowed to drive only within a certain radius around their homes.
For long distance driving she must be accompanied by a husband or male relative.
They can only drive during the daytime within certain hours.
A woman driver must have a mobile phone with her at all times.
It is an offence if she does not have a mobile phone while driving.
And (get this folks) women drivers must pay monthly for an extra special woman's driving license which includes towing fees and car repair fees.
If a woman driver has a flat tyre or engine problems she CANNOT STEP OUT OF THE CAR to change her flat tyre or fix the engine.
She must use her mobile phone to summon a government repair team to fix her flat tyre or repair her car or tow her car. Hence the special license fees.
In other words this "allowing women to drive" is just bullshit. It is not going to happen. This is just hogwash to fool the Americans that Saudi Arabia wants to make reforms.
Finally this 'lets vet the hadith' is also just fake. If the Saudis start vetting the hadith that will be the end of the Wahabi religion.
The Wahabi religion has got nothing to do with the Quran. It is all based on hadith.
These hadith have been floating around for over 1000 years.
Do you seriously think that the Wahabis are suddenly going to label the hadith as fake? It will be the end of the Wahabis.
I think it is more hogwash.
They just want to placate Trump so that the US Airforce will continue supporting Saudi Arabia's bombing campaign against Yemen.
This is just a fake facade which the Saudis will try to put up - until Trump is no more President.
Hopefully another Obama will become president and close BOTH EYES to what the Saudis are doing.
Posted by

Mohd. Kamal bin Abdullah
at 1:55 AM
1 comment:

PETALING JAYA: Is Malaysiakini (Mkini) now persona non grata from functions in which Youth and Sports Minister Khairy Jamaluddin attends?
That is the question that has been raised after an aide to the minister asked a reporter from the news portal to leave the room prior to a scheduled press conference (PC) earlier today.
Mkini reported how the aide had first approached the reporters' desk to solicit questions that will be brought up at the PC proper.
"The practice of press secretaries or aides approaching reporters for questions before press conferences by government officials is not unusual in Malaysia," Mkini said in its report.
However, after the aide had completed that task, the same aide is said to have returned to the room and asked the Mkini reporter to leave.
"I apologise. YB does not want to answer questions from Malaysiakini, nor are you allowed to be here. I have to ask you to leave. I apologise," the aide told the Mkini reporter present.
This is a first for the news portal, which said it has not been ejected from any youth and sports ministry event before this.
Reporters from the portal have previously been banned from attending events under the Prime Minister's Office, finance ministry, defence ministry and MCA PCs, according to Mkini.
The event which preceded the press conference was on Khairy officiating the "ignition ceremony" for the MyCorps @ South Asia programme, which will see Malaysian youth volunteers being sent to Sri Lanka and Bangladesh on humanitarian missions.
There were no details given as to the type of question that the portal had intended to ask, nor any explanation on why the reporter had been asked to leave. -FMT
Posted by

Mohd. Kamal bin Abdullah
at 1:54 AM
1 comment:

KUALA LUMPUR: Prime Minister Najib Razak said the founder of the YTL Group of Companies, Yeoh Tiong Lay, had made a huge contribution to Malaysia's Chinese community including in the education sector.
The Prime Minister said Yeoh, who died yesterday, had also built a successful business empire.
"Tan Sri Yeoh Tiong Lay built a successful business empire and made a huge contribution to Malaysia's Chinese community, including education. Rest in peace," Najib said in his Twitter account today.
YTL Corporation Bhd said in a statement yesterday that there would be wake services on Thursday, Friday and Saturday at 8.30pm, while the funeral service would be on Sunday at 10am.
The cortege will leave for Nilai Memorial Park at noon.
YTL Corp is among the 30 largest companies listed on the Main Market of Bursa Malaysia Securities Berhad, forming one of the component companies of the FTSE Bursa Malaysia KLCI, the stock exchange's primary benchmark index. -FMT
Posted by

Mohd. Kamal bin Abdullah
at 1:49 AM
1 comment:

KUALA LUMPUR: The Malaysian passport is ranked as the fourth most powerful in the world by the Global Passport Power Rank 2017. But it loses some of its power when presented in New Zealand.
Malaysian nationals or those holding Malaysian passports top the list of those refused visitor visa waiver in New Zealand since 2011.
The reason: mainly because they were not considered genuine visitors, and that they were not there for the purpose stated in their documents.
Of the 4,877 foreign nationals unable to enter New Zealand under the visa waiver programme since 2011, 517 were Malaysian passport holders, according to a report in the portal stuff.co.nz.
More than a thousand people were refused visitor visas at the New Zealand border in the past year .
Malaysians, it reported, were at the top of that list after being refused more than any other nation in the 50-country visa waiver programme.
It said figures released under the Official Information Act by the ministry for business, innovation and employment showed the refusal numbers had almost doubled from 646 in 2012/2013 to 1,049 in 2016/2017.
"Malaysians were refused over 100 times more than any other nationality," it reported.
Hong Kong was the second-highest with 412 refusals, followed by Australia (336), Great Britain (334) and Taiwan with 333.
In 2012, in reporting that Malaysia had the most number of travellers turned away, the New Zealand Herald said those rejected included some carrying false passports from people-smuggling syndicates.
"Malaysian Immigration says the country is being used as a transit point by syndicates which issue fake passports to help people to enter countries that have visa-free arrangements with Malaysia," the report had said. However, the New Zealand Herald report did not identify the person in Malaysian Immigration who had said this.
Meanwhile, according to the stuff.co.nz. report, Wellington immigration lawyer John Petris said he suspected some might have been turned away because they didn't educate themselves about the rules.
"There will also be genuine people who get caught up in this," Petris said.
Immigration New Zealand (INZ) assistant general manager Peter Devoy was quoted as saying the numbers needed to be viewed in a "broader context".
"China is now the largest source of overseas visitors to New Zealand after Australia. Statistics New Zealand figures show Malaysia was the eighth-largest source of overseas visitors in the year to the end of June with more than 41,000 Malaysians coming here," Devoy said.
According to the report in stuff.co.nz, most citizens of the 50 visa waiver countries did not have to apply for a visa before visiting for three months or less, or if they are British citizens, visiting for up to six months. -FMT
Posted by

Mohd. Kamal bin Abdullah
at 1:48 AM
2 comments: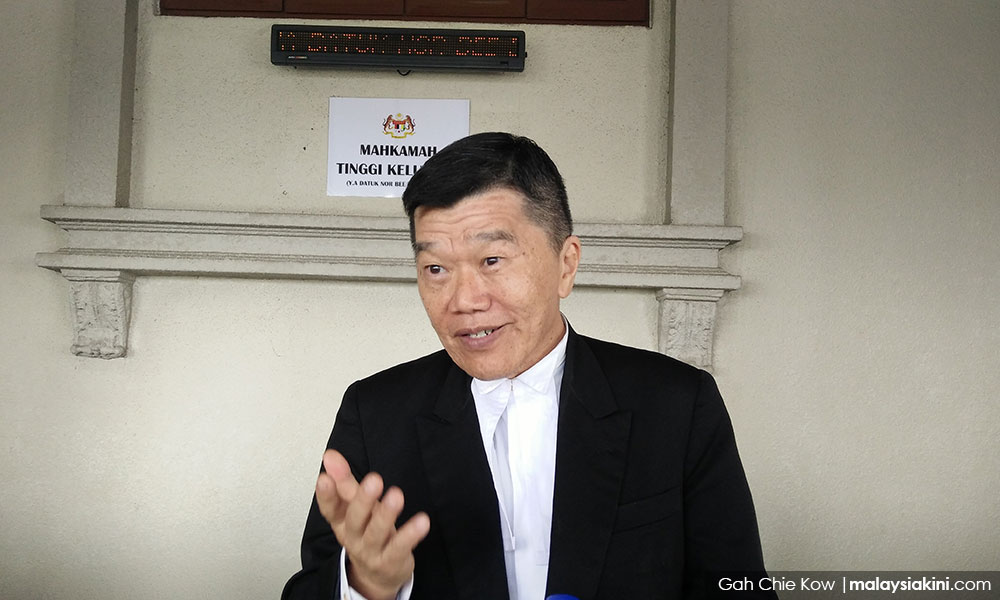 The Bahasa Malaysia-speaking Christian community would not pose a threat to public order by using the word of "Allah" as part of their religious practice, the Kuala Lumpur High Court heard today.
Lawyer Lim Heng Seng argued that instead, the ones who were threatening public order were those who protest against such practices or are attacking Christian places of worship.
"If there is any threat to public order, (it is) by a (small) fraction of the Muslim community. For instance, (they make) accusations, holding demonstrations or attacking Christian holy places because of the use of the word 'Allah' by Christians in peace and harmony.
"It is that fraction of Muslims who are threatening public order and not the Christian community," said Lim, who is representing Jill Ireland Lawrence Bill.
Jill Ireland, from Sarawak, is suing the government for seizing eight CDs containing the word "Allah" in 2008.
Lim told the court that Christians in Sabah and Sarawak have been using the word "Allah" for over 400 years as part of their worship.
"(Now) someone decided this is offensive and held demonstrations. Who is the one posing the threat?
"Is that what the rule of law is? For us (the minority) to give in?" he asked Justice Nor Bee Arifin.
Rule of law vs 'little Napoleons'
Lim told the court that the 1986 government directive banning the use of the word "Allah" by non-Muslims on grounds of causing confusion and problems for public order was unconstitutional.
"It infringes (my client's) right to worship in Bahasa Malaysia, to practise their religion as guaranteed under Article 11 (1) of the Federal Constitution.
"It impacts negatively on their freedom to practise their Christian faith in peace and harmony in any part of the federation as guaranteed by Article 3 of the Federal Constitution when their Christian publications were seized, detained and impounded by officers," he added.
Under the same Article of the Federal Constitution, he said, the government couldn't even formulate laws in Parliament in relation to religions professed by non-Muslim.
He questioned which laws allowed the government to impose a ban on other religions.
"It was these 'little Napoleons' who maintained that this directive is law. It is not? Everything seems to be done by these 'little Napoleon' and where is the respect for rule of law?
"Where is the trust the people can place in the government?" he asked.
He also argued that Home Ministry had no basis to formulate such directive.
-Mkini
Posted by

Mohd. Kamal bin Abdullah
at 1:41 AM
1 comment: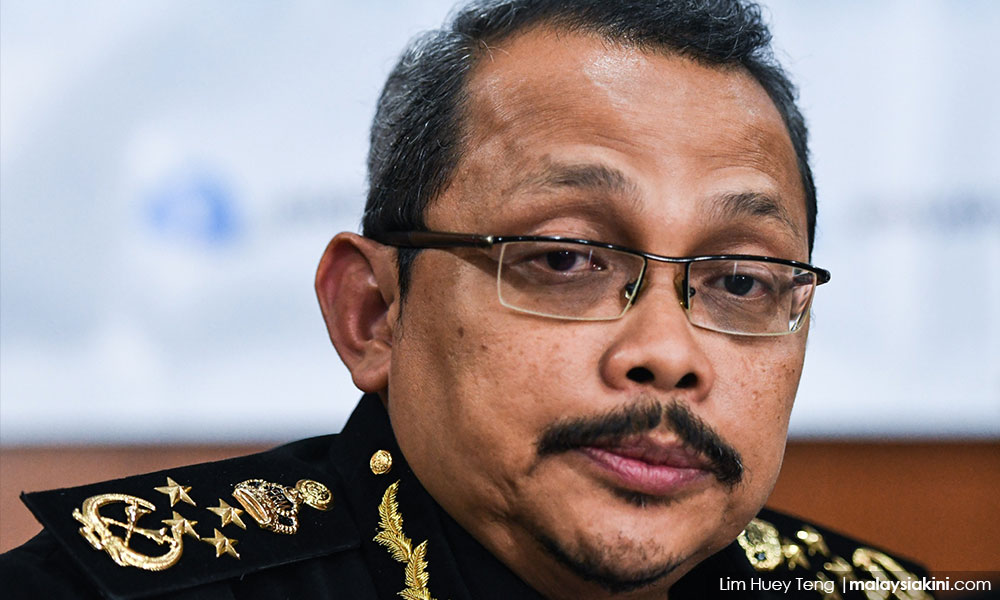 The Attorney-General's Chambers has set up a special task force to monitor investigations into an alleged extra-marital affair involving MACC chief Dzulkifli Ahmad.
"In view of the seriousness of the allegation that can affect the integrity of the chief commissioner of the MACC, the AGC has formed a task force on Oct 16, 2017 to closely monitor the investigations of the alleged offences," attorney-general Mohamed Apandi Ali said in a statement today.
Police reports had been lodged over the alleged affair, and inspector-general of police Mohamad Fuzi Harun are
investigating
the case under Section 498 of the Penal Code.
Section 498 of the Penal Code deals with the "enticing or taking away, or detaining with a criminal intent, a married woman".
Offenders can be jailed up to two years, fined or both.
Several video clips accusing Dzulkifli of being romantically involved with a married woman have been surfacing online since last week.
Apandi in his statement urged the public to refrain from making comments that could jeopardise the investigations.
However, he said the AGC would not discourage whistleblowers in the case.
"In line with the current best practices of our prosecutorial policy, we will also ensure that the investigations will not discourage whistleblowers or competent witnesses from coming forward to assist the investigations so that the truth shall prevail," he said.
Apandi assured that he would exercise his discretion in the matter judiciously and in accordance with the law.
Dzulkifli was previously an officer with the AGC before being appointed as MACC chief.

-Mkini
Posted by

Mohd. Kamal bin Abdullah
at 1:39 AM
1 comment:

Pengarah SPRM Jawab Hubungan Dengan Isteri Orang
Skandal KP SPRM: CCTV Pula
KP SPRM Difitnah Bawa Kekasih Ke Bali?
Posted by

Mohd. Kamal bin Abdullah
at 1:22 AM
1 comment:

SHAFIE Apdal has been called in for questioning by the Malaysian Anti-Corruption Commission (MACC) over the alleged embezzlement of RM1.5 billion of federal funds meant for Sabah, anti-graft and party sources said.
The Party Warisan Sabah president, who is currently in Kuala Lumpur, is expected to arrive in Kota Kinabalu this afternoon before presenting himself to the Sabah MACC.
Party sources told The Malaysian Insight that Shafie has been called in and will be met on arrival at the Kota Kinabalu International airport by Warisan members.
In earlier interviews, Shafie said he had already anticipated he would be called in by the MACC over the ongoing probe into the alleged embezzlement of RM1.5 billion of federal funds meant for Sabah rural projects between 2009 and 2015.
NAShafie was rural and regional development minister during that period and the funds were channelled through his ministry for the projects in Sabah.
Two of Shafie's brothers – Hamid and Yusof – were earlier remanded by the MACC over the same investigations.
In an interview with The Malaysian Insight last week, Shafie had said he had anticipated efforts to derail his political goals the moment he formed Warisan, describing the MACC probe as "selective prosecution" and politically motivated.
"I know the MACC is being used as a tool of the government,"
he said.
Shafie also expressed his dissatisfaction with the way the probe was being carried out, saying the MACC was beating around the bush by going after his friends and relatives.
However, MACC Commissioner Dzulkifli Ahmad said their investigation was "beyond politics", stressing it was about alleged corruption and abuse of power.
"Look at who we have arrested. We have detained not only Warisan members, but also Umno members. Our investigation is based on evidence, not political parties. This is beyond politics," the MACC chief had said.
The commission is investigating some 350 rural projects involving water and electricity supply, as well as roads awarded by the ministry to some 60 companies between 2009 and 2015.
Those detained thus far are Warisan vice-president Peter Anthony, Warisan Youth leader Azis Jamman, Tenom Umno Youth chief Jamawi Jaafar, Tawau Umno youth chief Ariffin Kassim, a senior officer from the Rural and Regional Development Ministry, a 54-year-old businessman, Shafie's two younger brothers and Hamid's 33-year-old businessman son-in-law Manzur Hussein Awal Khan.
Yusof, who is also Silam Umno branch chief and Lahad Datu assemblyman, was remanded yesterday, while Hamid was released earlier today after serving nine days in remand.
He was granted RM50,000 bail with two sureties. Six others have also been released on bail.
THE MALAYSIAN INSIGHT
Posted by

Mohd. Kamal bin Abdullah
at 12:08 AM
1 comment:

Pelajar Tingkatan 6 itu yang bakal menduduki STPM bulan depan didapati bersalah menghantar kenyataan jelek menghina Sultan Nazrin Shah.
IPOH: Seorang pelajar Tingkatan 6 diminta membaca Rukun Negara sebelum didenda RM5,000 oleh Mahkamah Majistret di sini, hari ini kerana menghina Sultan Perak Sultan Nazrin Shah di laman sosial, pada Jumaat lepas.
Majistret Siti Hafiza Jaafar mengarahkan tertuduh membaca Rukun Negara dengan menekankan prinsip kelima iaitu kesopanan dan kesusilaan kerana menganggap ia sesuatu yang penting untuk diamalkan.
"Kamu faham tak apa itu maksud tatasusila? Tatasusila ini membentuk perbuatan atau tingkah laku yang ampuh, jadi tatasusila ini perlu dijaga, jangan mengutuk, mengeluarkan kenyataan angkuh dan menghina.
"Kesalahan (menghina Sultan) ini boleh dipenjarakan tetapi kamu masih bersekolah, namun sebagai pengajaran untuk kamu dan masyarakat di luar sana, satu bentuk hukuman yang setimpal perlu diberikan," kata Siti Hafiza sebelum menjatuhkan hukuman.
Pelajar berumur 19 tahun yang akan mengambil peperiksaan Sijil Tinggi Persekolahan Malaysia (STPM) bulan depan itu mengaku bersalah menggunakan perkhidmatan aplikasi Twitter untuk menghantar komen yang jelek sifatnya dengan niat untuk menyakitkan hati orang lain.
Dia didakwa melakukan kesalahan itu di Bandar Baru Medan Ipoh, pada 10.30 malam, 13 Okt lepas.
Tertuduh didakwa mengikut Seksyen 233(1)(A) Akta Komunikasi Multimedia 1998 (AKTA 588) dan boleh dihukum di bawah Seksyen 233(3) akta sama, yang memperuntukkan hukuman denda maksimum RM50,000 atau penjara tidak melebihi satu tahun atau kedua-duanya sekali.
Remaja itu boleh dipenjara selama tiga bulan sekiranya gagal membayar denda berkenaan.
Peguam Yayasan Bantuan Guaman Kebangsaan, Awatif Ahmad Bashir yang mewakili tertuduh memohon mahkamah agar tidak mengenakan denda tinggi memandangkan remaja itu menyesali serta memohon maaf atas perbuatannya.
Bagaimanapun, Timbalan Pendakwa Raya Irna Julieza Maaras memohon mahkamah mengenakan hukuman setimpal agar dapat memberi pengajaran kepada tertuduh dan masyarakat supaya tidak menggunakan laman sosial sewenang-wenangnya. -FMT
Posted by

Mohd. Kamal bin Abdullah
at 12:05 AM
1 comment: